The final day of engagements began with Prime Minister
Narendra Modi
visiting the TCS BPO centre in Riyadh. The centre is a perfect example of acting globally while being committed locally.
At the TCS centre, 1000 women work in BPO operations, 85% of whom are Saudi Nationals. PM Modi said, "All of you must come to India, I assure you a very warm reception. The atmosphere I am witnessing here today has the potential to give a strong messag
e to the world. I am meeting those professionals who are now the pride of Saudi Arabia."
PM Modi marked his presence on the message board at the TCS centre. He also spent some time interacting with the employees at the all women IT centre.
The three warships will be on a three-day "training exercise" off Subic Bay, and then cross the disputed South China Sea, where it expects to be shadowed by the Chinese navy, on their way to Cam Ranh Bay in Vietnam.
SUBIC BAY – A Japanese submarine, escorted by two guided-missile destroyers, arrived in the Philippines on Sunday (April 3), ahead of annual war games…
STRAITSTIMES.COM
|
BY RAUL DANCEL
Tsunami alert issued after high intensity quake hits off Vanuatu
Location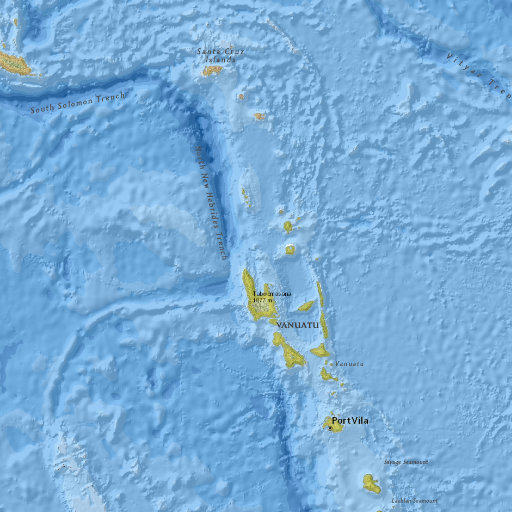 Time
2016-04-03 08:23:53 (UTC)
2016-04-03 13:53:53 (UTC+05:30) in your timezone
Nearby Cities
81km (50mi) NNW of Port-Olry, Vanuatu
136km (85mi) NNW of Luganville, Vanuatu
407km (253mi) NNW of Port-Vila, Vanuatu
728km (452mi) N of We, New Caledonia
863km (536mi) N of Paita, New Caledonia

Seismotectonics of the Eastern Margin of the Australia Plate

The eastern margin of the Australia plate is one of the most sesimically active areas of the world due to high rates of convergence between the Australia and Pacific plates. In the region of New Zealand, the 3000 km long Australia-Pacific plate boundary extends from south of Macquarie Island to the southern Kermadec Island chain. It includes an oceanic transform (the Macquarie Ridge), two oppositely verging subduction zones (Puysegur and Hikurangi), and a transpressive continental transform, the Alpine Fault through South Island, New Zealand
If you are unable to see this message, click here to view
Dishaa – The Musical Way
3rd April, 7:00pm
Hindustani Vocal recital by Pt.Arun Debnath, disciple of Lt.Ustad Aamir Khan & Pt.Jasraj.
Smriti- An Indian Classical Music & Dance Festival
5th April, 7:00pm
Sitar-Sarod Jugalbandi by Aayush Mohan Gupta, disciple of Pt.Uma Shankar Mishra & Lakshya Mohan Gupta, disciple of Sharan Rani.
Smriti- An Indian Classical Music & Dance Festival
6th April, 7:00pm
Desert Storm by Pt.Salil Bhatt, disciple of Pt.Vishwamohan Bhatt & the Manganiyars of Rajasthan
Ghazals of Kamla Singh
8th April, 7:00pm
'Zeenat' rendered by Shakeel Ahmed
Austria and its neighbors in Central Europe and the Balkans will press the EU to create a new auxiliary force to help them deal with any influx of migrants, Austria's defense minister said Friday. Vienna has suggested setting up a "bridging mission" that would help EU border agency Frontex process and deport migrants arriving in Greece from Turkey until Frontex is fully staffed there. This process could take months, officials in Vienna said. It is "a mixed civil-police-military mission that should be deployed where necessary," said Defense Minister Hans Peter Doskozil. The aim is to help secure the EU's external borders and deport migrants not entitled to stay in the bloc, according to the minister.
The Chief Reporter/Photographer
New Delhi
Dear Sir/Madam,
Subject : Traders National Conclave at New Delhi
The Confederation of All India Traders (CAIT) is holding a "National Traders Conclave" from 4th April to 6th April at Talkatora Stadium, New Delhi. About 10 thousand trade leaders from all over the Country will be participating in three days Conclave.
The Conclave will discuss various burning issues including FDI in e commerce, FDI in retail, promotion of less cash economy, financial inclusion of traders through MUDRA, direct selling business in India, Indefinite strike of Jewelers in India and several other issues. The Conclave will also formulate a future strategy for a national campaign on these issues.
We shall be grateful if you kindly depute a staff correspondent of your esteemed newspaper to cover the same. We take pleasure in attaching herewith formal invitation card.
Thanking you. With kind regards
Yours truly
Praveen Khandelwal
National Secretary General
Contact Cell : +91-9891015165
There are frequent power cuts in Delhi even as Peak Seasonal Demand on
April01 was only 3696 MW for entire Delhi and even at this time of
writing 3 AM demand is barely 2500 MW against 8000 MW+ Capacity there
is break down of Street Light which will not be 'On' tonight.
http://www.nrldc.org/DOReport/pdf/daily010416.pdf
Even a Breakdown of Transformer when operating at 30% Load, last month
for example would lead to 3-4 kilometer 11 KV feeder subjected to
frequent & prolonged power cuts.
When there was 4 Hour BREAKDOWN – I went out and found out BRPL was
Cleaning the ABB Transformer – But it was Only BOX – Inside was a
KOTSON Make 990 KVA Transformer made at UP Industrial Area about 30 km
from Ghaziabad.
BRPL was paid Rs.16,00,000 for this Transformer against list price of
Rs.8,00,000 only in 2004. [DERC Made this observation in one Tribunal
Case.]
Instead of Industrial Blower to CLEAN UP the transformer in Seconds it
was manually cleaned with small brush.
http://www.cea.nic.in/reports/daily/dgr/2016/March/31/dgr1.pdf
NRLDC Peak Demand Met was only 39,251 MW when CEA Monitored Installed
capacity on March31 was 65,534 MW or 23,959 MW Outages,
Planned Generation for the day 831 MU But Actual 680 MU (-) 18.2%,
Annual Program of Northern Region 307 BU, But Actual 284 BU (-) 7.48%.
CEA 68,302 MW Outages – 2,58,895 MW Monitored Capacity
FY16 Capacity Growth 15.4%, Generation Growth 5.6%
Piyush Goyal Had Made Power Sector 1. Less Efficient,
2. More Costly, 3. Less Reliable & 4. Less Productive,
5. Consumers Unfriendly, and 6. More Regional Imbalance
Region Wise Energy Shortages in BU
Regions FY2014 FY2016
Northern (-) 9.560; 3.42% (-) 22.941; (-) 7.48%
Western 1.811; 0.57% 6.447; 1.6%
Southern 7.307; 3.68% (-)11.464; (-) 4.84%
Eastern (-) 9.776 (-) 6.05% (-) 1.571; (-) 0.9%
North-Eastern (-) 0.039 () 0.39% (-) 1.344; (-) 9.62%
Total (-) 9.350 (-) 0.95 (-) 30.429; (-) 2.68%
Ravinder Singh, Inventor & Consultant, INNOVATIVE TECHNOLOGIES AND PROJECTS
Y-77, Hauz Khas, New Delhi-110016, India. Ph; 091- 9871056471,
9718280435, 9650421857
How to Get Your Website Listed in Google News | SEJ

| | |
| --- | --- |
| | www­.searchenginejournal­.com– Many websites create fantastic news content on a regular basis, but the audience that it reaches is limited because it's not getting into Google's News search vertical. In this article, we explore … |

能町みね子・雨宮まみによる北条かやへの抗議

| | |
| --- | --- |
| | togetter­.com– カルチャー 文学・書籍(+27) デザイン(+3) アート(+9) ファッション 注目のまとめ 今週人気のまとめ 新着のまとめ 人気のまとめ 更新済まとめ 文学・書籍 小説(+2) ライトノベル(+3) Twitter小説(+14) 電子書籍(+1) 注目のまとめ 今週人気のまとめ 新着のまとめ 人気のまとめ 更新済まとめ 能町みね子・雨宮まみによる北条かやへの抗議 北条かや【noteもやっ… |

What I Learned From Kristi Yamaguchi

| | |
| --- | --- |
| | www­.nytimes­.com– The first time I saw her she wasn't even skating. I was flipping through the handful of channels our TV could pick up with its rabbit-ear antenna when I glimpsed her waving from the tallest podium … |
Email powered by
Get link

Facebook

Twitter

Pinterest

Google+

Email